Dr. Erika Robb Larkins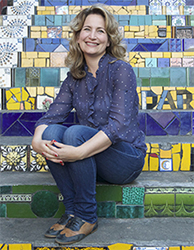 Professor - On Sabbatical
Office: AL-626 | Phone: (619) 594-5028 | Email: [email protected]
Dr. Erika Robb Larkins is Associate of Anthropology, Behner Stiefel Chair of Brazilian Studies, and Director of the Behner Stiefel Center for Brazilian Studies at San Diego State University. She received her doctorate in Cultural Anthropology from the University of Wisconsin, Madison and also holds a M.A. in Latin American Studies from the University of Chicago. Larkins' research and teaching focuses on violence and inequality in urban settings. Her first book, The Spectacular Favela: Violence in Modern Brazil (U California Press 2015), explores the political economy of spectacular violence in one of Rio's most famous favelas. Her second book, The Sensation of Security: Private Guards and the Social Order in Brazil, is forthcoming from Cornell University Press. She has also published on issues of race, gender, and politics in Brazil, with recent articles appearing in American Ethnologist, City and Society, and the Journal for Latin American and Caribbean Anthropology, and in public outlets including El País and Estadão (O Estado de São Paulo).
Also a writer of fiction, Larkins is a Pushcart nominee, and her 2021 short story, "Working for Nico" won an award from the Society for Humanistic Anthropology in the creative ethnographic prose category.
Larkins' is currently working on a new National Science Foundation funded research project on the intersection of extreme heat, environmental racism, and inequality in Rio de Janeiro. She was recently awarded a National Endowment for the Humanities grant to co-teach the second iteration of the NEH Summer Institute, "Race, Modernity and Urban Spaces in Brazil" for higher education faculty in 2022.